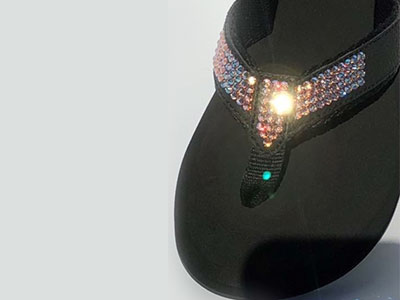 Each genuine high quality cut crystal is hand placed on our Southern Glass Slippers by our design team. 
The straps are made of genuine leather, a soft rolled nylon lining, and a nylon toe piece to help reduce abrasion and do away with painful break-in periods. The craftsmanship that goes into making shoes paired with the strap anchoring system that is in place means that you'll never worry about the straps or toe piece separating from the base.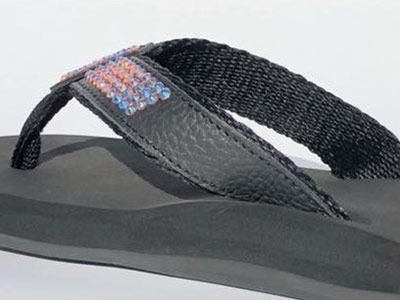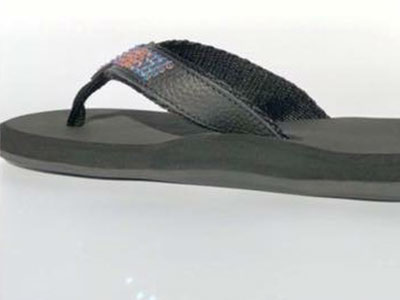 Made with ½" high density EVA memory foam rubber which acts as an excellent and durable shock absorber, the beveled footbed of the Southern Glass Slippers will make you feel like you are walking on air! The EVA gently massages and shapes to the contours of your feet as you walk and evenly distributes your weight across the shoe to help prevent pronation and supination.
You'll also notice the built-in arch support will rise into the arches of your feet and give you exactly the support that you need – it gives you the feeling like the shoes were made just for you! Many of our clients have shared their stories with us about how Southern Glass Slippers have helped provide temporary relief from foot pains caused by plantar fasciitis along with other foot, leg, and lower back pains. With the comfort and support Southern Glass Slippers provide, they will quickly become your "go-to shoe!"
Southern Glass Slippers are made with molded rubber outsoles that have a built-in, solid arch support and a non-marking tread. You get the stability, support, and traction comparable to that of a good tennis shoe and can walk over almost any terrain with confidence.